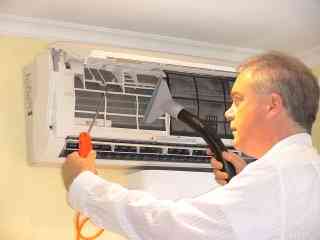 Are you worried about the quality of air in your home or office? According to some renowned Dubai AC disinfection and cleaning companies and health organizations, as compared to outdoor air, indoor air is generally about 70% more polluted. This makes it very important to make sure that the indoor air quality is well maintained since we spend most of our time indoors.
Air is a perfect disease spreading medium. This is because the transfer of disease carrying microorganisms and molds is easier through air.  It is due to this reason that AC and duct cleaning is considered a precondition for a pure and healthy environment.
Many people are unaware of this fact, but air pollution is ranked as one of the top 10 health hazards worldwide. The pollution of indoor air is mainly caused due to a number of factors. These include:
The circulation of bacteria, fungi, molds and several other microorganisms
The accumulation of carbon dioxide in closed rooms
Different smells, including body odor and the smell of drinks, food and smoking, etc.
Moist temperature
Mildew in air
How to Clean Air Conditioners and Air Ducts
People assume that the warm air coming from their AC or duct is probably because it is low on refrigerants. However, that is not always the case. Most times, AC units and ducts are unable to give off cold air because their condenser and evaporator coils are clogged. This calls for professional AC Duct cleaning, and the good news is there are many companies offering duct and air-conditioning cleaning in Dubai.
If you would rather have your ducts and air conditioners cleaned on your own, here is a guide on how to go about it:
Air Conditioner Cleaning
Remove the trim panel or plastic filter holder, which usually snaps off.
Remove the trim panel or plastic filter holder from the window. You might need help to do this since it will be heavy.
 Remove the case and mounting frame by unscrewing it. Remember the points from where you unscrew each of the screws because they will have to go back into the same spots when reassembling the unit.
Straighten the cooling fins that are bent by carefully using a fin comb. You can get cheap and good fin kits that can be used for most conditioner brands.
Buy some AC coil cleaners and carefully clean the coils.
Vacuum any visible dirt.
Spray the coils with the cleaner.
Clean the fan blades using a rag or household cleaner.
Wash and replace the filter and reassemble the unit.
Carry out a pre-seal test to find out whether there's a leak and how big it is.
Use plastic sealers or foam to seal registers and pump in aerosol sealant.
Once all the escape routes are blocked, the sealant will settle on the leakage holes.
Perform a seal test again to find out whether you missed any leakage points.
Also read – "The do's and dont's of AC Cleaning in Dubai". The pointers mentioned here will surely better prepare you for do-it-yourself ac cleaning and disinfection.
Air Ducts
You will notice a great improvement in your indoor air quality once you have successfully cleaned your AC unit and ducts. However, just make sure you have the right cleaning equipment before attempting to clean your AC unit and duct on your own.