I am sure that you have a lot of questions related to AC Cleaning & Duct Cleaning. Below mentioned are some of the related Frequently Asked Questions. Let's look into it.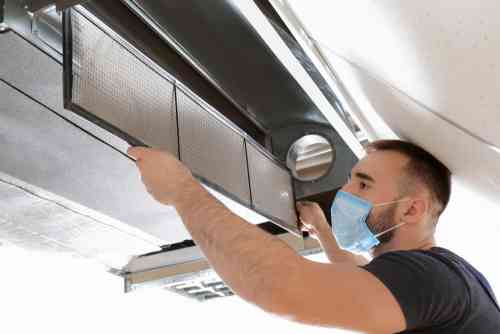 What Exactly is Air Duct Cleaning?
A professional Air Duct Cleaning involves cleaning up your ducts. These ducts act as pathways for cooling, heating and ventilation inside homes and offices. Over time, these pathways may accumulate dust, carcinogens, allergens and molds. An average person spends more than 90% of his time indoors and this indoor air can be 8 times more harmful than the outdoor air, according to EPA (Environmental Protection Agency). Therefore, it becomes important that the air that you breathe is free of any allergens. A professional AC Duct Cleaning company uses specialized equipment and trained technicians to thoroughly clean these AC ducts so that you can have clean and pure air to breathe all the time. It becomes more important to get AC Cleaning & Disinfection service done if there's someone in your family who's hyper allergic to dust, pet dander and other related pollutants.
Do I really need AC Duct Cleaning?
A simple answer is yes, you do. Let me ask you a simple question. When was the last time you had your AC Ducts inspected for any signs of molds, dust, contaminants and other allergens? Exactly! Your Ducts can be a breeding ground for so many allergens and pathogens. Only by proper AC Duct Cleaning can you be 100% sure that the AC Air coming into your homes via these vents is pure and breathable. Also, the other part of this jigsaw is your AC filters, whether they are clean or not. But most often than not, it's your ducts that need cleaning.
If you need more convincing, here's an article –  "6 Reasons To Get AC Duct Cleaning Done", you'd like to read which explains 6 reasons to have AC Duct Cleaning done.
Are there any health benefits associated with Air Vent Cleaning?
There's a lot of debate among the community as far as the health benefits of duct cleaning are concerned, but it sure should be considered as one of the components in your overall plan to improve the indoor air quality of your home and office. There's no doubt that dust, fungi, mold, bacteria and other contaminants may collect overtime inside the ducts, thereby creating a hostile air to breathe in. This becomes even more important if there are humans prone to get sick due to polluted air like small children and old people. It is practical that you get your ducts inspected at least once a year and get a professional duct cleaning service done in order to keep the indoor air quality healthy.
How do I tell if the AC Cleaning & Duct Cleaning service was effective or not?
Good question! A professional Duct Cleaning company should be able to provide you before and after pictures or videos of your ducts after the service is performed. You can also monitor the condition of your duct with the help of a flashlight and a mirror. But the most effective way would be to take the assistance of a professional company as they have specialized tools to inspect the ducts and most companies would gladly perform a Free Duct Cleaning inspection for you, if you plan to take the service in the near future.
Just be cautious while inspecting the ducts yourself, as there might be mold and other allergens inside the ducts which, under direct contact, may prove hazardous to the person performing the inspection. Make sure you wear gloves and a good quality mask before embarking on duct inspection yourself. But as the old adage goes, "it's best to keep it with the professionals!"
How often should I get my AC Cleaning done?
The exact answer to this question really depends upon a multitude of factors including the preference of the home or office owner. On average, you should get your AC's and ducts inspected at least once a year.
Some of the factors which may decide the frequency of AC cleaning are:
The number of smokers inside the house.
The number of pets and the quantity of pet dander.
If the house has undergone recent remodelling or renovation.
The number of allergic family members (i.e. those people who are more prone to dust/molds/contaminant allergy). If there are hypersensitive family members, the frequency of AC Cleaning would, obviously, has to be increased.
Effectiveness of kitchen chimney or exhaust fans and the quantity and the type of food cooked inside the kitchen.
Recent damage to the AC Filtration system which led to damage or breakdown of the system.
Houses/buildings where the AC's have been switched off for quite some time.
Any signs of mold or related pathogens.
In addition to these factors, you should make sure that you get your AC Cleaning inspection done if you're moving into a new property. Remember, when it comes to the health of your loved ones, you can never be too cautious.
Is there a difference between Residential AC Duct Cleaning and Commercial AC Duct Cleaning?
Of course, there is a huge difference. Residential AC ducts are smaller as compared to Commercial AC Ducts. Commercial buildings install HVAC (heating, ventilation & air conditioning) system which are much powerful and advanced than usual residential systems. Residential AC Cleaning involves fewer technicians whereas commercial AC Cleaning might involve a team of technicians depending upon the size of the company. Some duct cleaning companies may even use different equipment for both these cleaning jobs. There might be a difference in the frequency of AC Duct Cleaning for commercial and residential properties. But the bottom line remains the same – the air coming out of the vents should be completely healthy and breathable.
What criteria should I seek in choosing a Professional Duct Cleaning Company?
Another Excellent question! How you choose your AC & Duct Cleaning company will largely depend upon your budget, area and scope of cleaning work required. Here we have listed some factors which should better equip you in choosing an AC Duct Cleaning Company for your home or office
Make sure the company has proper approvals like NADCA (National Air Duct Cleaners Association), NAFA (National Air Filter Association) along with local authority approvals like municipality and other relevant government organizations. These approvals should act as a trust vote in taking your final decision.
Check if the company has enough experience in the field of AC Cleaning & Disinfection.
Ask your neighbours, friends and work colleagues about their recommendations for a good AC Cleaning company that they might know of.
Avoid "cheap price" gimmicks. AC Duct cleaning is a complex process, do not compromise on the quality whilst looking to save a buck or two.
Ask as many questions regarding the AC Service to the company as possible. Remember, there are no dumb questions. The professional AC Duct Cleaning Company's technicians would be fully equipped to answer all your questions and queries.
Go online and compare company reviews and prices. You can also find some help fora where people have shared their experiences.
Get in touch with companies that operate in your area. There's no point in calling a company which doesn't perform frequent service in your area. The main disadvantage would be calling them again to your premises and the additional costs that you might incur if the company agrees to come to you again.
Ask the company about the after-service follow-up. Many companies think that their job is done once the service is performed and most do not even think of going back regarding any issues unless they are paid again. Make sure you discuss with your service provider regarding such scenarios.
Ask the Company regarding the equipment and chemicals they use while performing the AC Duct Cleaning Services and how much experience they have servicing AC Systems similar to yours. If a company uses toxic chemicals, then it simply makes the AC Cleaning useless as the chemicals may cause more damage.
Ask the company about the cleanup as the AC & Duct Cleaning process might leave a mess around your home and offices. A professional AC Cleaning Company should use covers to minimize dirt as much as possible and clean up and restore the whole environment as they found it when they started the service.
You should also ask about any potential damage to your furniture, paint, duct grills, and the electrical system during the service.
What is the price of AC Cleaning in Dubai & UAE?
There's no specific answer to this question, as you can clearly understand. It totally depends upon the size of your ducts, scope of work required, number of technicians to be employed and the type of technology used in the service. There can also be a huge difference between the service prices among various companies. Make sure you compare prices and ask appropriate questions to the company before confirming your appointment.
Customers should be wary of the "blower and vacuum" companies as they would just come, plugin the blower and blast some air inside the ducts and term it as a service. Also, be aware of the sweeping claims made by some companies as many such claims are totally unsubstantiated. Do not fall prey to gimmickry. Cheap rates don't really mean good service.
My AC Cleaning Company says that Duct Cleaning reduces my energy bills. Is it true?
Researches have confirmed that HVAC Cleaning may allow the system to run more efficiently as the debris, mold and dust have been cleaned out from the vents. A clean system is more efficient and is less likely to break down than improperly maintained HVAC systems. This increases the life span of the appliance and could save some money as well. If the ducts are clean, the ACs do not have to run at full blast to cool the environment, thereby, reducing the energy bills as well.
Should I choose only a NADCA member to clean my HVAC system?
Definitely, as all NADCA members sign an ethical code of conduct which states that they will do everything possible to protect the consumer and follow the organization's standard guidelines to the best of their ability. To get NADCA approval, companies must meet strict NADCA requirements and procedures. They also have to keep working efficiently and regularly to maintain their membership. Therefore, it is best if you choose a company that adheres to the NADCA standards.
How long does it take to get the HVAC system cleaned and do I need to be away during the cleaning?
Again, there's no single answer for this query. The amount of time totally depends upon the size of the air vents to be cleaned and the AC system. Generally, the service takes anywhere between 2-5 hours for 2 technicians to clean a standard sized apartment (approximately 2000 sq. ft.). In most cases, you do not need to be away as the service is being performed. If someone in your family is allergic to dust and other pollutants, it is best that they stay away during the cleaning process but your service company should be better equipped to answer all your questions.
What are the other benefits of duct cleaning?
The benefits of duct cleaning are manifold if you choose to employ a quality Duct Cleaning Service.
Healthier breathing: As you already know, duct cleaning removes the dust particles, pet dander and other dangerous air particles like mold, fungus, and smoke particles that can cause severe breathing issues among the inhabitants. Duct cleaning becomes even more important if there are senior citizens and children in the house with allergies or respiratory issues.
Improved Indoor Air Quality: After the Duct Cleaning Service, there's a considerable increase in the indoor air quality index of your home and office. You can get your indoor air checked and then compare the statistics before and after the service to make sure that your service was done properly and efficiently.
Clean Home Interiors: The dust particles cleaned during this process normally settle onto the furniture and other surfaces.
Better Health: Health issues like sore eyes, headache, frequent flu, and general fatigue may also be related to dirty ducts. These may be good indicators that you need to get your ducts cleaned. You'll stay healthy if you breathe healthier air.
Increased the AC Efficiency: Your AC will be more efficient and have fewer breakdowns as the pathway which delivers the AC air (ac vents) is clear. This might even help save you some money in the long run.
If you're convinced that you need the Best AC Duct Cleaning Service in Dubai or the UAE, give Saniservice a call at 800-SANI(7264) today or visit saniservice.com/contact-us.