Air conditioners have become a basic requirement today, especially in areas with hot and humid climate.
We all love to sit and work or relax in an environment which is cool. However, at most of the times we fail to realize that the air we are inhaling could be the source of infections and air-borne diseases. The times are changing and so do the molds and other microorganisms. To ensure a healthy environment, we must ensure that the indoor air that we inhale should be of premium quality.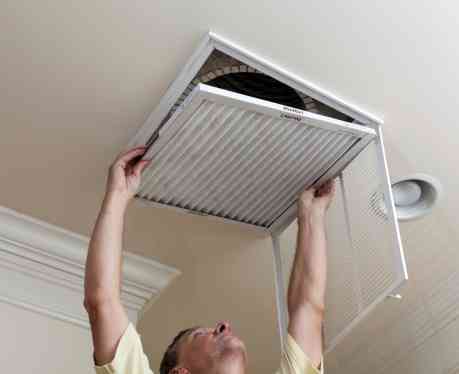 The air we breathe may not be safe and pure as air conditioners provide excellent mold breeding conditions.
Air conditioners allow the dust to get settled on the cooling fins, which then becomes damp owing to air conditioners' property of condensing water out of the air. Molds require areas such as damp dust to grow.
While the ac is running, molds may not be able to grow. However molds perfectly breed in periods when the ac is not required. Molds can be very hazardous if not properly controlled.
AC Cleaning is very important as it not only removes the moldy dust and improves your health, but also improves the efficiency of an air conditioner.
Molds are not the problem of just office or household air conditioners, but they are found in convectors, split units, vehicle air conditioning systems, air conditioning plants, cold storage rooms, refrigerated transporters and food storage units as well. By air duct cleaning you terminate all the mold, fungi, bacteria and viruses, thus improving the indoor air quality and removing the a/c bad smell. So for proper ventilation and hygiene, it becomes a prerequisite that air conditioners are timely cleaned either professionally, as well as personally for small units. However it is highly recommended that for a full and efficient air conditioning duct cleaning, expert assistance should be taken.
An ideal air ac cleaning regimen should include the following –
Checking the proper functioning of Air handling unit/ Chiller unit/ Pumps/ Controls/ Cooling towers.
Repair of damaged equipment.
Replacement of the worn out, damaged or defective parts with either new or repaired parts.
Chemical cleaning of evaporator coils, replacement of pre-filters and de-scaling of condensers.
The inspection of the compressor to ensure proper working.
Replenishment of compressor oil and refrigerant gas.
Inspection of control boards, microprocessor control panel, transducers of packaged chillers or condensing unit.
Replacement of parts owing to normal depreciation.
Painting of the plant room equipment
Checking the cooling, as well as chilled water to measure the chemical composition.
It is scientifically known that around 25% of the diseases are spread through air. And to ensure a healthy lifestyle it becomes essential that we maintain proper air hygiene. The growing pollution in the urban areas is another factor that we prefer to have air conditioners even in low temperatures. But we often forget that the air conditioner which is shielding us from the adverse climatic conditions, could pose as a worse culprit if gets unchecked. Therefore, it becomes a necessity to get the ac cleaning done in a timely manner to ensure a proper breathing and healthy life.
Saniservice has been offering coil AC cleaning services to the citizens of Dubai, UAE, and the whole of the United Arab Emirates for several years. Saniservice's group of qualified professionals will always provide the most appropriate, and most cost-effective remedy for your AC Cleaning needs.