The development of advanced treatment technologies in the household appliance industry has given impetus to the emerging smart kitchen faucet market in industrial, commercial, and residential buildings, globally. In a country like UAE, several factors have contributed to the rising demand of smart systems such as scarcity of fresh water sources hence the need for water conservation, high costs and environmental impacts of bottled water, and the need for sanitation. The Covid-19 pandemic has created a demand for technologies that allow us to avoid touching devices. Before the pandemic, the world had a difficult time understanding the importance of touchless technology, and even then, it was not imagined in this context. The gesture-based technologies that have been adopted in research have thus far not been popular outside of research labs. The global pandemic, however, has changed that view; today, the average person can certainly appreciate the need for touchless interaction. This technology is important not only for healthcare workers interacting with medical equipment, but also in the use of household appliances like faucets, ATMs, vending machines, and learning devices. There are several issues in the design, development, and adoption of such technologies that should be addressed soon.
The introduction of the touchless kitchen faucet has revolutionized the household appliances market. The use of smart faucets has emerged as a good solution for people to have access to clean drinking water in their homes at minimal cost without the need to touch the faucet thus maintaining hand hygiene and sanitation. This article gives an overview of the Smart Kitchen Faucets available in the market today. Sani Water has been at the forefront of providing their customers with the latest products and advanced water treatment technologies available in the drinking water industry. With "Smart Kitchen Faucet Series", Sani Water aims to educate and inform their customers about the fundamentals of Smart Kitchen Faucets and some of the most popular brands of Smart Kitchen Faucets available in the market today.
IMPORTANT FEATURES IN A SMART KITCHEN FAUCET
Not every smart faucet is the same, nor do they all offer the same features. The one feature nearly every smart faucet has in common is a pull-out sprayer as opposed to a separate spray hose. For space requirements, you will want to keep that and a few other things in mind:
Activation features:

 Smart faucets are typically either touch, gesture, or voice controlled. You do not have to pull the included handle, but that is an option, too.

Power supply:

 Smart Faucets require either batteries or an outlet for power. Batteries require occasional changing, but an outlet requires convenient plugs that are not controlled by a light switch.

Finish:

 You want your faucet to look good in your kitchen. We have linked to traditional options like brushed nickel or stainless steel, but nearly every smart faucet comes in multiple finish options. You might need to search for a separate listing to find the finish you want.
ADVANTAGES OF SMART KITCHEN FAUCETS
Touchless kitchen faucets use motion sensor technology to know when to turn on and off, and only allow water to flow when it is needed.
Thermostatic faucets allow you to set water to a certain temperature. You can do this each time you use the system or set the temperature ahead of time, so the water always reaches that temperature.

Touchless faucets

 prove useful for more reasons than simply convenience. They can also keep your kitchen cleaner and safer. 
REFLECTION POINTS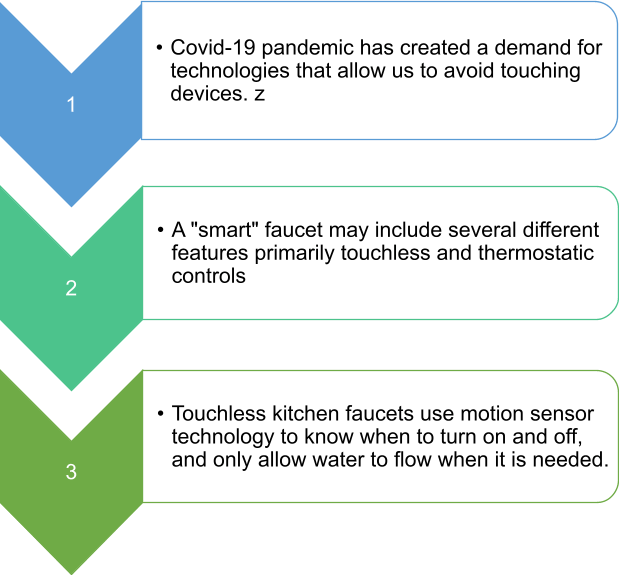 REFERENCES
//interactions.acm.org/archive/view/july-august-2020/the-emerging-need-for-touchless-interaction-technologies

//www.prnewswire.com/news-releases/touchless-technology-spa-like-showers-and-more-moen-showcases-innovations-for-a-healthy-happy-home-at-kbis-2021-301224073.html

//www.cnet.com/home/smart-home/kohler-smart-faucet-brings-voice-commands-to-the-kitchen-sink/

//www.angi.com/articles/what-are-smart-kitchen-faucets.htm
The post <span style="color: #4690cd;">S</span>mart Kitchen Faucet Series: Introduction And Advantages For Household Use appeared first on SaniWater.